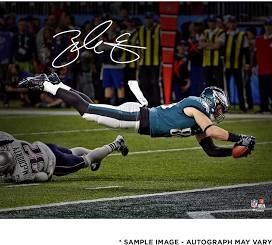 Popular Super Bowl Memorabilia
Popular Super Bowl Memorabilia
To say that the Super Bowl is just about football is like saying a hot dog is just about the bun. Sure, football plays a critical role; but there is so much more going on. There is the drama, for starters, the narrative of two of the best sides in the country battling it out. Then there is the razzmatazz of the half-time show, and the new TV commercials, both of which have become iconic in their own right. Then, of course, there is the memorabilia that provides the fans with the memories of the occasion.
Super Bowl memorabilia has a special place in the collective hearts of our nation's football fans, and it's easy to see why. When your team makes it to that legendary play-off encounter, you want to preserve that moment for all time. Unless, of course, you are a New England Patriots fan, in which case you're probably getting bored already. Here's a look at our rundown for some of the most popular memorabilia items from past Super Bowls.
Worn Player Jerseys
Securing a jersey that was worn by a player in the hallowed and heated environment of a Super Bowl is the dream for many football fans. As you might expect, these jerseys can be enormously expensive; Peyton Manning's 2013 Denver Broncos jersey, for example, is expected to fetch $15,000. If you shop around and make the right inquiries, you might be able to find yourself a great jersey at a real bargain price. However, we do not recommend you go to the same lengths as the guy who actually stole Tom Brady's jersey in 2017.
Used Tickets
Super Bowl tickets are notoriously tricky to come by, and they retain their worth even long after the dust has settled on that year's game. In fact, a framed, well looked after, Super Bowl ticket is one of the most popular ways to commemorate a great victory, or a valiant defeat. Tickets regularly fetch upwards of $80 when the game is over, with signed tickets and tickets from earlier Super Bowls exceeding even this amount; so it's well worth holding on to your stub long after the game is over.
Game Programs
Like tickets, Super Bowl programs are not particularly rare; tens of thousands are made for each game, after all, but they can be highly collectable, with many willing to pay serious money to acquire a mint condition copy. For more recent Super Bowls, you can expect to pay around $20 for a program, however, for older, rarer programs, prices can extend into the hundreds of dollars. Signed copies, or full sets of multiple copies, can go for thousands. 
Championship Rings
There are two avenues you can go down here; both are collectable, but one is more lucrative than the other. If you have access to the commemorative rings issued by teams for general sale following a Super Bowl, this is great. If, somehow, you are in possession of an original championship ring issued only to team players, then you are sitting on serious money. Original championship rings can go for upwards of $30,000, and even their more readily available counterparts can fetch a significant fee at auction.
Novelty Mugs
Not quite as exciting as a player jersey, not as likely to bring in the big bucks as some of the other memorabilia, but novelty mugs still have a place in the hearts of the modern football fans. Super Bowl memorabilia is not just about cashing in; it's about passion, commitment, and great memories. As a more affordable entry into the world of gridiron collectables, commemorative mugs are a great choice for a gift, either for a loved one or just for yourself. They also serve a practical purpose whenever you crave your morning cup of Joe. Unless you'd prefer to keep the piece in mint condition, that is.
So, whatever your favorite piece of Super Bowl memorabilia, Dynasty Sports is the place to get your get it! And over the coming weeks some of your favorite Eagles players will be coming to Dynasty Sports for Player Signings; check our website regularly.