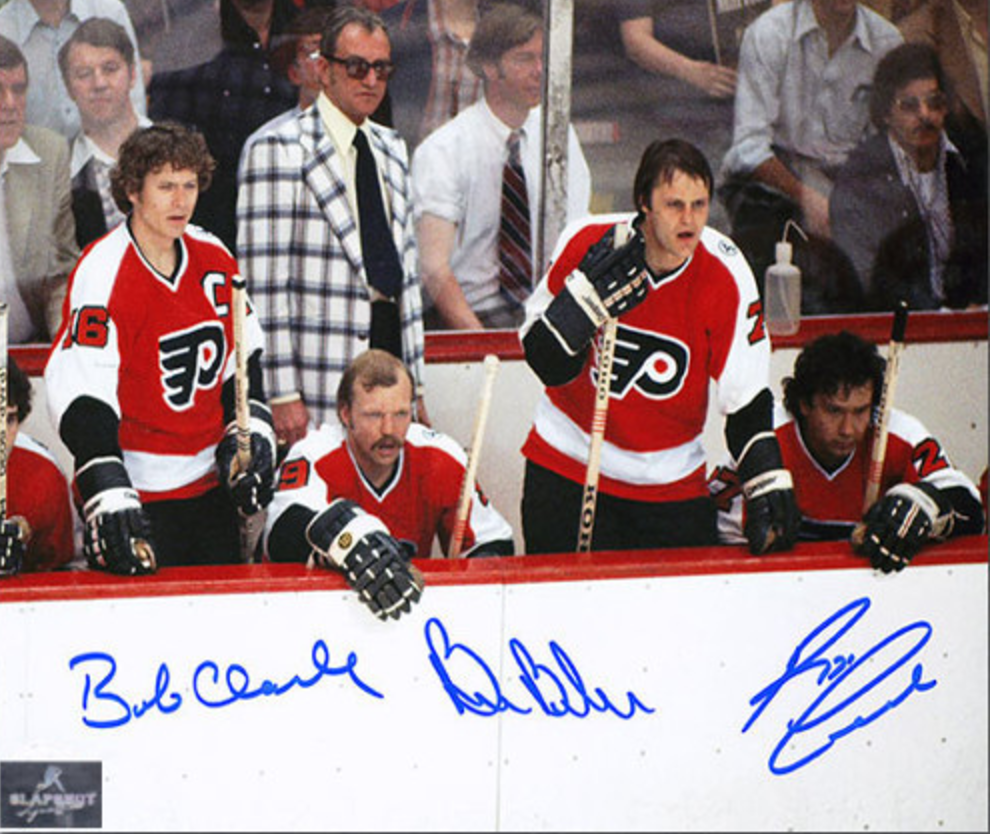 PHILADELPHIA FLYERS LCB LINE
The LCB Line was the most effective of all the offensive lines in the history of the Philadelphia Flyers. Reggie Leach, Bobby Clarke, and Bill Barber, in their first 2 years together, were the offensive powerhouse that led to Stanley Cup wins in both of those years. And they were instrumental in making it to the Finals several more times before they were separated. They also set a NHL record for the most goals by a single line with 141; Leach had 61, Clarke 30, and Barber had 50.
Reggie Leach, Right Wing, had his best year with the Flyers in the 1975-76 season when he set career highs of 61 goals, 91 points, and 11 game-winning goals. His 61 goals earned him the NHL's Richard Trophy for the highest goals in a season, and it was a Flyers record for a season's highest goals. Reggie leach is also one of a handful of non-goaltenders on a losing Stanley Cup team to win the Conn Smythe MVP Trophy with the most goals (19) in a single playoff season.
Bobby Clarke, Center, spent his entire 15-year NHL career with the Flyers, and is recognized as one of the greatest player/captains of all time. In addition to his three 100-point seasons, he led the league in assists twice, and played in 8 All-Star games. In 1983, he won the Frank J. Selke Trophy, awarded to the league's best defensive forward, and set a club record for the most points (119) in a season.
Bill Barber, Left Wing, the Flyers first round draft pick in 1972 and scored 30 goals and 34 assists in his first year with the team. He was also a contender for the Caldor Rookie of the Year Trophy. He went on to score 20 or more goals every year, his best being 50 goals and 62 assists in the 1975-76 season. During the Flyers 1974 and 1975 Stanley Cup playoffs, he scored 6 goals in each, with 15 and 13 points respectively.
The LCB Line is considered one of the all-time bests by most hockey and sports magazines, as well as by many current and former coaches and sport-casters.